This website is not optimised to run on your browser. For the best experience please consider upgrading.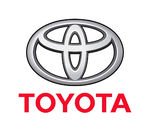 Toyota
personal
contract hire vans
The Toyota van line-up comprises of the Toyota PROACE, the Toyota Land Cruiser and the Toyota Hilux.
The Toyota PROACE is a medium sized panel van with the load room and payload capacity to accommodate a wide range of needs. As well as its standard form, the PROACE is available as the PROACE CITY whose smaller stature is more suited to tight city spaces. A people carrier version then comes in the form of the PROACE Verso.
Outside of their trusted panel vans, Toyota are renowned for their bold and tough off-roaders. The Toyota Land Cruiser has many attributes invaluable to commercial use, as does the widely-loved and 'indestructible' Toyota Hilux.
The Toyota commercial range is available in a range of petrol and diesel engines as well as multiple payload and wheelbase options. They also come with five years warranty and roadside assistance as standard. If you'd like help to find the best lease deal on any of these Toyota commercial vehicles, contact our team of Leasing Consultants.